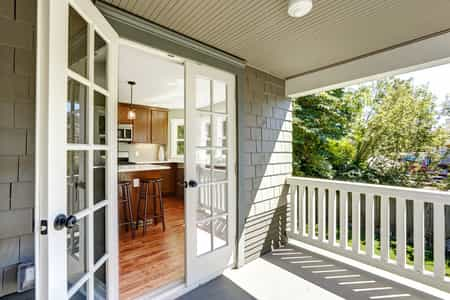 Hinged Patio Doors
Just like the name suggests, these are doors, which are hinged at some point in their structure. This means that it has been attached or joint and it turns and hangs using the hinge. Hinged patio doors are common in most homes. There are two types of hinged doors; the French patio hinged door and the center hinged patio door.
French Hinged Patio Doors
With this door, it is hinged at the sides of the doorway such that it opens and swings both inwardly and outwards. Most of the times, it comes in a double panel structure, allowing you enough space to bring in big things.
Center Hinged Patio Doors
A center hinged patio door is joined or hinged at the center such that, if it is a double panel door structure, only one of them swings to open and close. Unlike the sliding doors, hinged patio doors can comfortably be made of either wood or glass, as they are easy to operate. In addition, due to people's nature of being reluctant to change, they prefer this more simple and common type of door.
Benefits of Hinged Patio Doors
Easy to Operate
Glass Doors allow in more natural light
Availability of a wide variety of designs and styles
The hinges increase the door stability