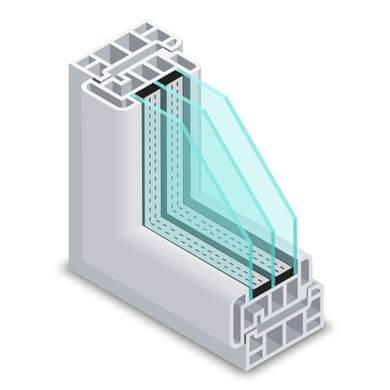 Double pane glass is used in energy efficient, or cost saving windows and is incorporated in the design to prevent the tempered inside air of your home from escaping. These windows can reduce your energy usage and make your home more comfortable.
What are double pane windows?
Double pane windows are made with two panes of glass separated by spacer, which determines the distance between the glass panes. The volume between the glass panes is filled with inert gasses such as argon to increase the energy efficiency by acting as an insulator and reducing moisture by limiting condensation.
Filler and Spacers
Our Concept-1 window come standard with the Climatech Plus SuperSpacer system. The SuperSpacer is the ultimate choice for energy efficiency.
Benefits of double pane windows
Insulation and Efficiency – Double pane windows are far more efficient than single pane windows. The second layer of glass, spacer, and insulation insulates your home and reduces heat loss in winter and heat gain in summer.
Noise Reduction – The added layer of glass doubles the effect of windows, leading to a noticeable reduction in noise.
Reduced Condensation – Double paned windows reduce or eliminate condensation by separating the interna pane from the outer pane. This separation of hot and cold, increases efficiency and reduces condensation.
How much money can double pane windows save?
EnergyStar estimates that choosing a more efficient window glass package can save $101 - $583 per year which is the equivalent to 1,006 – 6,205 pounds of CO2.